Artist LJ Pheonix releases latest album 'Delorean'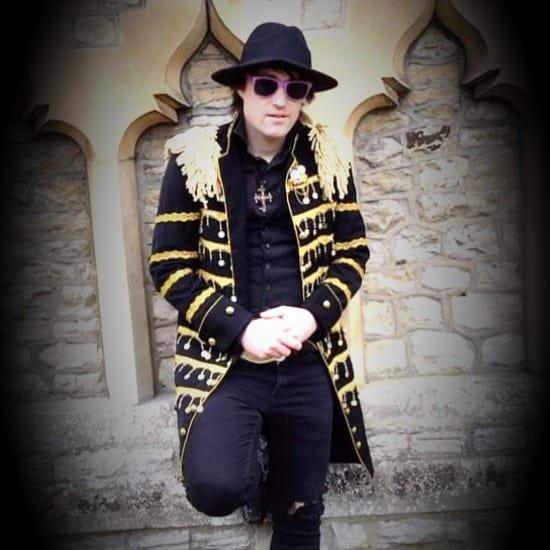 Hardcopies available on this website via the Product Tab, Digital Copies Available here:
https://ditto.fm/delorean-ljpheonix_4fbafb5d8f


Artist L.J.Pheonix releases his brand new album, 'Delorean'. Channelling futuristic beats, '80s inspired synths and strong vocals, L.J.Pheonix is saving the world with his newest release. The album is set in a future Blade Runner-type world, where current modern issues portray themselves in people's personal lives. Although technology has advanced beyond our wildest dreams, society may still linger out of control. Taking these important themes and portraying them through his lyricism, 'Delorean' is a brand new world of music that will transform him headfirst into 2022 with a bang.

L.J.Pheonix is a singer and songwriter based in the United Kingdom. A '90s kid, L.J.Pheonix caught the tail end of life before the internet. His childhood dream was to sing onstage like Michael Jackson, one of his main influences. Now, in 2022, L.J.Pheonix is ready to dominate the world with his futuristic art and create music for the many.

Support LJ Pheonix on Social Media
Facebook | Instagram
Listen to more of LJ Pheonix
YouTube | Spotify | Apple Music

Influences:
Michael Jackson, Corey Hart, Elton John, Will Smith
Interview via zoom 12/10/2020
12/10/2020. By Francois, Music Journalist, USA
1.How did you get started with music and how did you develop your sound?
Kinda grew up around lot of big names, mums partner roadied for deep purple so alot of advice and nurturing from Rory, lot the advice turned into awesome ideas!
My birthdad was a session drummer he knew lot cool sigs so guess thats where I get the rythmn but vocals comes from my family get together with my twin sister, grandad. Dad we used to jam out. I was taught guitar in school too by Rai Scalia. He taught me the malmsteen n the Paul Gilbert loved Steve vai too, I guess bein around so much musicians including marillion mum knew fish pretty well.. Lot of cool stories there but I saw them live as a kid kinda showed music can get big in my little town. Guess it opened my ears and eyes to a world I wanted a part in.
2. What do you want listeners to take away from the music?
A Sense of Love , Hope, and Warmth sort of excitement feeling /euphoria Something you cannot get from a photograph.
3. What can people expect from your live show?
I love people, connecting with them and just truly engaging with them. I guess they get a whole piece of me. Most shows are so exciting that when I come offstage I actually don't want to. I usually get the nod no more and run back out and give them one more so guess just expect an engaging show full of surprise.
4. What's your favorite track to play live?
Oo tough one vocally id say Cold as the energy is alive throughout often a good opener. Guitarwise though love bein chucked my baby mid song and shredding it with Father Sin. They on the hardcopy album now which is rad as only ever done them live.
5. Who are three bands you'd like to tour with?
My dream would be queen,but freddies dead. So Lady Gaga as shes my idol, Nightwish or Within Temptation gotta love chicks that sing . LA Guns for the party ofc
6. Any crazy show stories?
My mum came to a show and got me drunk before I went onstage I managed to slip on the step and kinda army rolled out onstage , pretended it was intended.
She left the show early and i wasnt aware so i tapped her at the bar handed her the weekly shopping list and my medication, when she turned round she had a beard, a pint and was called steve it was not my mum. Very embrassing Moment.
LJs mother at a show:
7. What's your take on legal/illegal music downloading?
Hard to escape it but with Spotify n stuff people making royalties for people like me now by freeplaying /streaming illegals kinda dying out so Good News I guess!
8. What's next for ljpheonix?
"Something wild ...a journey only time will tell. " When its released alot of what just said will make sense.. Been doing alot of skateboarding so I guess expect more music, starting on the next album working with few producers so will be interesting to see how that pans out as im now independently released so having to work my ass off. So id say definitely alot of work ahead.
9. Any shoutouts?
My sis, mum, dad, Rory, Niques, Luke , Lil Logan , all my family aunties uncles, Lisa too, uncle jim ofc, the sessi0n and all my skate crew.
Lj In the studio:
Broken Glass Music Video:
Live And Let Live Lyric Video: